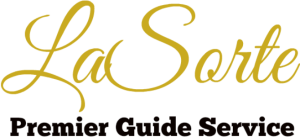 What personal items do I need to bring?
Clients should bring personal clothing items appropriate for the weather conditions.  It is always wise to bring along rain gear.  In addition, clients should bring sunscreen, a hat, required medicine and polarized sunglasses.  On the Delaware and Salmon River fisheries chest waders are a necessity.
What about fishing gear?
Captain LaSorte has a full assortment of top of the line rods and reels appropriate for the particular fishery.  Adrian also provides flies and tippet as needed.  However, many clients prefer to use their own fishing equipment.
Is lunch provided?
Captain LaSorte will provide lunch and beverages for full-day trips.  If you have a particular dietary need please make sure to inform Adrian prior to your trip.
How many people can share a guided trip?
Generally, two fisherman is the maximum per guided trip.  Captain Adrian can arrange for additional guides for larger groups if given sufficient advance notice.
Do I need a fishing license?
A New York State Fishing License is required on the Delaware River.  Portions of the river can be fished with a Pennsylvania fishing license.  Fishing the Salmon River requires a New York State Fishing License.  No fishing license is required in the Florida Keys when fishing out of Captain LaSorte's flats boat.
Booking a Trip
The fastest way to book a trip is to call Captain LaSorte on his cell phone.  During the day he is most often on the water so make sure to leave a message and he will get back to you in a timely manner.  Prime dates book quickly so make sure to make your plans well in advance.